---
---
Absoluteblack's revolutionary OVAL GUIDE chain guide is here. This is the only chain guide on the market that is designed specifically for Oval chainrings, keeping your chain secure at every single crank position. OVAL GUIDE has unique adjustable chainline from 48-53mm making it compatible with every single bike setup. 
| | |
| --- | --- |
| Size (Mass +/-1g): | 22.2g including ALL TITANIUM hardware |
| Fits to: | ISCG05 mount |
| Compatibility | any 1x10, 1x11 or 1x12 drivetrain with AB oval or round chainring |
| Chainline | 48-53mm (Boost compatible) by every 0.5mm using 4 spacers (included) |
| Capacity | 26-34T Oval or 28-36T Round |
| Material | Backplate: 7075 aluminium, Cage: GF + PA66 polymer composite, Bolts: Titanium Torx T25 |
| In Packet | complete chain guide; chainline spacer set (0.5, 1, 2, 3,5mm); 2x titanium M6 torx T25 bolts |
WHY DO WE OFFER A CHAIN GUIDE?
While our oval chainrings, with Absoluteblack's own patent pending narrow/wide teeth profiles, don't require any chain retention to keep the chain firmly in its correct position, there are still riders who feel safer with some form of backup and extra insurance that their chain will remain securely located. If you ride in demanding terrain, love rock gardens and jumps, or simply want to feel extra safe, our new OVAL GUIDE™ is for you. It's extremely light, small and easy to mount. It's designed to guarantee chain retention, but at the same time made to be almost invisible.


FULLY COMPATIBLE WITH OVAL CHAINRINGS
Absoluteblack Oval Guide™ is the Only chain guide on the market that is designed specifically for Oval chainrings. Extremely light and versatile, the Oval Guide™ chain guide secures the chain movement at every single crank position. The Oval Guide™ is also the lightest product of its kind on the market.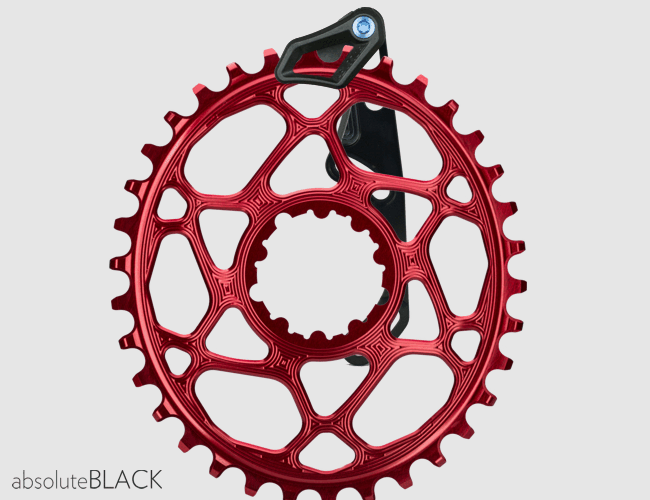 ADJUSTABLE CHAINLINE
Our Oval Guide™ chain guide can accommodate any chainline between 48-53mm. That means it fits from 1X setup with 49mm chainline to Boost specific 52mm chainline and more. Chainline is adjustable in 0.5mm increments, with 4 included spacers 0.5, 1, 2 and 3.5mm.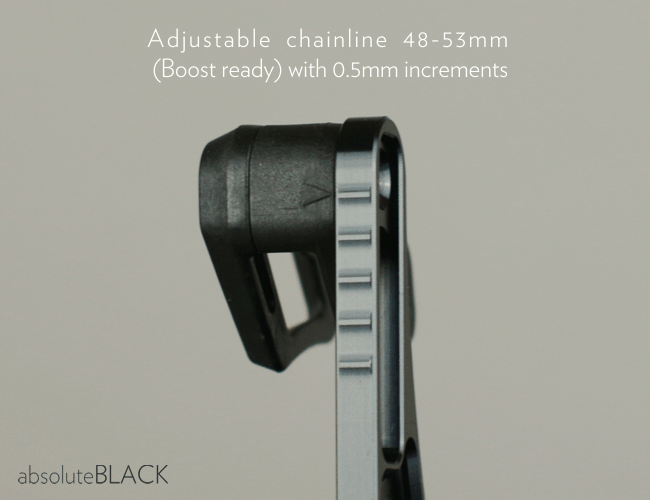 TOOL FREE - FRONT FLIP TECHNOLOGY
Our chain guide has a tool free movable front part of the cage. You can access the chain using your hands only. If you ever need to make small adjustments on the trail after a crash or broken chain, you don't have to worry about removing the Oval Guide™. You simply flip the outer section of the guide with your fingers, which will give you free access to the chain. Once you've made adjustments, you flip it back.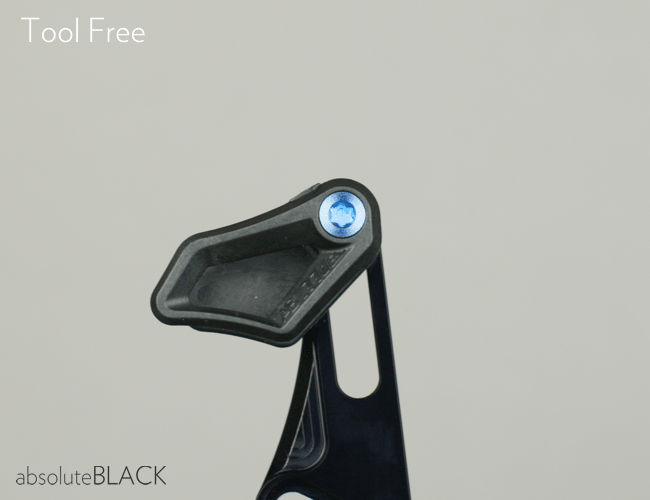 ADJUSTABLE SIZE
Our chain guide can accept oval chainrings from 26-34T and round rings from 28-36T. Small markers on the side of the back-plate show the ideal position of the guide for your desired chainring size.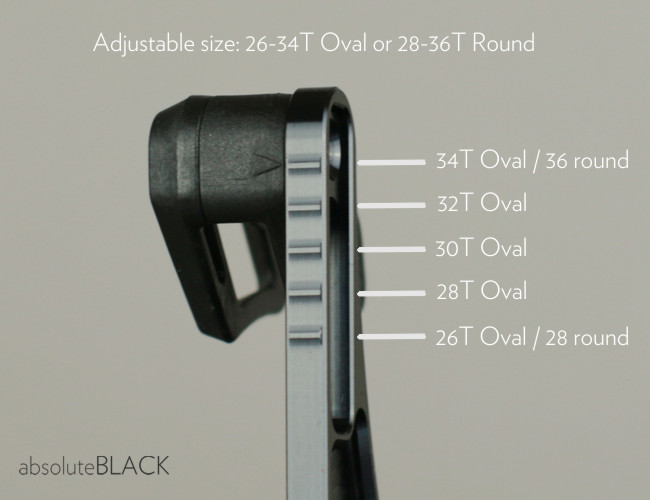 HOW TO MOUNT ABSOLUTEBLACK OVAL GUIDE™
In order to mount chain guide correctly please refer to the video below and download: Oval guide instruction PDF
ABSOLUTEBLACK AND 77DESIGNZ COOPERATION
This product is a brain child of two companies: Absoluteblack- oval chainrings expert and 77designz - MTB chain guides expert. Creating an outstanding product is never easy. Sometimes it requires a lot more brain power than single company can handle. At the beginning both companies were developing similar product independently, but close relationship proved that teaming up can lead to extraordinary results. This is how OVAL GUIDE™ was born.
Designed in UK. Manufactured in Poland (EU). The World's best OVAL chain guide.
---